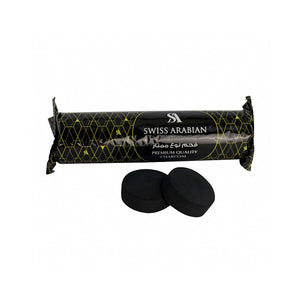 Made in Dubai, Ships from 🇺🇸 🇨🇦 and 🇬🇧 !
Fast Shipping
Real, Pure Oud
Top Rated Products
Tired of waiting for your coal to burn or just want to chill without the hassle of waiting for your charcoal to fire-up?! With these Swiss Arabian charcoal briquettes, you can instantly light up the coal and get quality premium hookah/Bakhoor coals to fulfill your smoking desires while at the without any hassle.

Super strong and durable coals that won't deteriorate easily and produce powerful heat that lasts super long!
FEATURES
Quick Light Coals
Round Shaped
10 Briquettes per Roll
Versatile - Great for Incense Burners, Bakhoor, Hookahs, Pipes, Bowls - Doesn't Requires a Hot Plate

Bakhoor has been a necessity in almost every Arabian home for centuries now. It is believed to have initially been used by the nomadic Levantine tribes who burnt agarwood chips (the base ingredient of Bakhoor) to perfume their surrounding, and to cover up the smell of cooking. It was also believed by some to ward off bad luck. Even now, many strongly believe that the sacred aroma of Bakhoor can keep away jinn and attract angels, as it has a cleansing, purifying, and healing effect.
Middle Eastern women carry Bakhoor burners through their homes to spread the fragrance, which lingers in carpets, curtains, and other fabrics. Both men and women stand over the burners to allow the smoke to perfume their clothing and hair, as the Bakhoor selection is a way to express one's self through fragrance, mixing and matching multiple scents according to season, whim, or social occasion. A favorite blend is commonly gifted during casual gatherings as a gesture of hospitality.
---