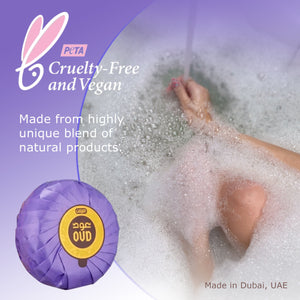 Made in Dubai, Ships from 🇺🇸 🇨🇦 and 🇬🇧 !
Fast Shipping
Real, Pure Oud
Top Rated Products
OudLux - Hareemi Oud Scented Soap Bar - Luxurious, Individually Packaged Bar of Soap, Powerful Fragrance, Hand and Body Wash - 1 bar, 125g
 [DELIGHTFUL SCENT]
 Our customers rave about our captivating scents! Upon opening one, you'll immediately love the mouthwatering fragrance, relaxing your mind, body, and senses. The OudLux Hareemi is a potent mash-up of rich florals and a warm, woody base that lasts on the skin for hours. It's a multi-layered fragrance made up of Jasmine, Fruits, and Cedarwood, making it truly irresistible.
 A TOUCH OF LUXURY]
 Our soap bars are made with luxurious ingredients that will leave your skin feeling soft and silky. It's also great for use as a body wash, as it will help to remove any dirt or impurities from your skin. Our family of Oud luxury products is a precious, treasurable, and exquisite collection. Created from highly valuable perfume extracted from nature, and enriched with pure majestic Oud oil, you will be amazed by the powerful scent and gentle feeling on your skin.
 [EASY ON THE SKIN]
 OudLux is an artisan soap company, and we take pride in our handmade soaps. Our soaps are formulated to provide additional nourishing moisture that our competitors simply don't use. Our unique blend balances oily skin, soothes sensitive skin, and moisturizes dry skin.
 [NATURAL FORMULA]
 We've taken the finest natural ingredients and combined them with traditional manufacturing methods to create a truly one-of-a-kind bar of soap that you can't find anywhere else! The natural ingredients are gentle on your skin, leaving it feeling clean and refreshed. Our luxurious soaps are made in the UAE with a highly unique blend of ingredients and original Oud fragrance.
[INDIVIDUALLY PACKAGED]

 What could be better than giving the gift of luxury? Whether you are looking for the perfect bar of soap for yourself, or as a gift, we've got you covered. OudLux soap bars are a luxurious gift for a birthday, Christmas, Mother's Day, or simply as a thank you gift. Our soap bars come in beautiful, individually wrapped, making them the perfect gift for any occasion.
 [PRODUCT DESCRIPTION]
 Tired of bland, boring soap? OudLux has got you covered with our 125g Hareemi Oud Soap Bar! This bar is perfect for those who are looking to add a touch of luxury to their everyday routine. The soap is made with natural ingredients and features a sweet, woodsy scent that will leave you feeling refreshed and invigorated. Not only does the bar lather up nicely, but it's also gentle on the skin and won't leave behind any unwanted residue. Treat yourself to some luxury today with OudLux soap.
Hareemi (Purple):

TOP: Fruity 
HEART: Jasmine, Orchid
BASE: Cedarwood, Patchouli 
---
---
Our family of Oud luxury products is a precious, treasurable and exquisite range created from highly valuable perfume extracted from nature and enriched with pure majestic Oud oil.
These luxurious soaps are made of a highly unique blend of natural products and original Oud fragrance. They include mixes of Sandalwood, Musk, Amber and Exotic Roses, leaving your skin soft, smooth and clean.
---